SPOILERS FOR SEASON ONE OF THE GOOD PLACE AHEAD
For over a year I've had an idea for an article bouncing around in my head. I planned on titling it "Facebook Is The Bad Place."
First, though, we need to talk about NBC's The Good Place.
Season 1 of The Good Place is all misdirection. Eleanor Shellstrop, played by Kristen Bell, dies and wakes up in "The Good Place", an all-but-in-name Heaven reserved for only the people who have lived the most virtuous lives during their time on Earth. Everyone else ends up in "The Bad Place," a torture chamber of endless bureaucracy and "butthole spiders".
(It's a weird show. Hang with me.)
The initial twist is that there's been a mistake: Eleanor is a terrible person. She refers to herself—not without some pride—as an "Arizona trashbag." She doesn't belong, and she lies to nearly everyone while she tries to figure out how this could have happened.
As the first season progresses, other people get sucked into Eleanor's deceptions, the lies spiral out of control, and everyone ends up stressed out and at each other's throats. Eventually, Eleanor notices how much this all feels, well, not good, and realizes the truth: they're all in The Bad Place, and they have been the whole time.
The Good Place, as they know it, was an experiment designed to feed their insecurities and have the protagonists end up torturing each other for an eternity.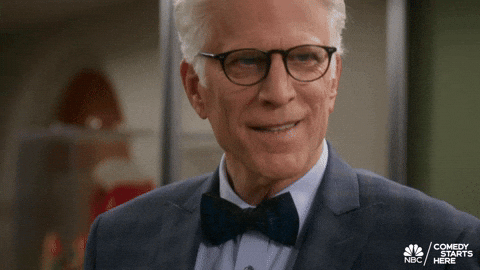 (It's a terrific show. Really. Probably the best thing on television right now.)
Back to Facebook: you can probably guess, then, the clever logical steps in my conclusion that Facebook is not a good place:
At first, it was the cool thing and connected all kinds of people and let you share photos and keep up with your friends and everyone was on it and it was just so fun.
It's actually bad, tho.
And we're starting to realize it.
While Facebook claims to be a benevolent social network, they're mostly just an advertising company, so the most important thing to them is more eyeballs on the site. The best way to get eyeballs is to have us all screaming at each other all the time. They make it easy to spread conspiracy theories and fake news. They run experiments to manipulate our moods with neither our knowledge nor explicit consent. They drive ethnic violence. They let you target ads to "Jew haters". They hire research firms to attempt to tie protestors to fringe conspiracy theories. They make you feel like crap as you compare yourself to the selective, external, and idealized selves that others present. They disrupt the "natural, gentle process of growing apart and losing touch". They make it ridiculously difficult to maintain any sense of privacy or sense that they're not going to abuse your personal data, and that's before they just give your data to Donald Trump's campaign.
It just sucks. #deleteyouraccount and all that.
And yet.
The other day a cold snap was approaching, and we found out our furnace blower was busted. No heat. ☃️ I put out a post on Facebook to see if anyone nearby had some space heaters we could borrow.
A bunch of friends got back to me, and we had access to more space heaters than we needed within 20 minutes.
A few days later, my birthday was approaching and Facebook asked me to start a "birthday fundraiser." Facebook even offered to chip in two whole dollars to start it off. I shrugged, decided to take Facebook's money, and started a fundraiser for the Alzheimer's Association with a goal to raise $200.
We blew past that within hours. I decided to match some of the donations, and as of right now we're at $867!
Alzheimer's really effing sucks. My Grandad had it. Although he was one of the smartest people I ever knew, towards the end he could barely follow an episode of Law & Order. It's a shitty disease, you guys. And we've whipped together nearly $900 to fight it.
I'm stunned. Seriously. 👏 to everyone who donated. Thank you, so, so much.
For the first time in a long time, it was actually fun to check Facebook.
Could I have texted some friends and asked for some space heaters? Sure, I guess. Could I have hit up people I know directly for donations? Sure, I guess. But it wouldn't have been so easy.
This pops my "Facebook Is The Bad Place" bubble a little bit.
And yet.
I still kind of hate it.
Over the past several years I've worked to cut way, way, way back on Facebook. I was on it too much, and I didn't feel like I was having a good time using it. If I was especially bored at work, sometimes I'd have Facebook open, and I'd find myself wondering "Hey! Maybe I should check Facebook…" and ⌘+T and open Facebook while I had literally just been looking at fucking Facebook. That didn't feel great.
I'm not out to cast judgement; if you enjoy using Facebook for whatever reason, more power to you. But I feel better when I'm on it less.
And yet.
I can't bring myself to delete my account entirely.
There is good in there.
A few weeks ago the New York Times ran a profile of Michael Schur, the creator of The Good Place, and it discussed one of the major themes of the show:
As an over-the-top avatar of all our worst impulses, Eleanor is severely allergic to any notion of community. And yet her salvation will turn out to depend on the people around her, all of whom will in turn depend on her. What makes us good, Chidi tells her, is "our bonds to other people and our innate desire to treat them with dignity."
If there's good to be found in Facebook, it's going to come from the decent people who use it, and the connections to them that it allows. And, make no mistake, they are there.
I'm thankful that they are. Truly.
…
…
…
I guess the current status of my relationship with Facebook is "It's complicated."
(Sorry.)